After his speech at the J.P. Morgan Annual Health Care Conference,
and the ensuing tweet that rocked the #HITsm sphere:
In 2016, MU as it has existed– with MACRA– will now be effectively over and replaced with something better #JPM16

— Andy Slavitt (@ASlavitt) January 12, 2016
CMS Acting Administration Andy Slavitt, along with ONC Director Karen DeSalvo, released their latest declaration on the future of Meaningful Use. However, while the message boasted progress and promised reform, the 'grand' gesture left many unanswered questions. At face value, their strategy glazes over many of the more important criticisms pundits have launched against the EHR incentives program.
If we read between the lines, however, perhaps we can begin to decipher their clichéd ideology:
Where We've Been                                             
As we mentioned in a speech last week, the Administration is working on an important transition for the Electronic Health Record (EHR) Incentive Program. We have been working side by side with physician organizations… [and] while we will be putting out additional details in the next few months, we wanted to provide an update today…
Okay, but getting to the point…
[Congress passed t]he Medicare Access and CHIP Reauthorization Act of 2015 (MACRA), which considers quality, cost, and clinical practice improvement activities in calculating how Medicare payments will be determined moving forward… [and] continues to require that physicians be measured on their "meaningful use" of certified EHR technology for purposes of determining their Medicare payments…
Sure, that sounds great—but what does that all mean? Give us something concrete.
As we move forward under MACRA, we will… be guided by several critical principles:

1.  Rewarding providers for the outcomes technology helps them achieve with their patients.

2.  Allowing providers the flexibility to customize health IT to their individual practice needs. Technology must be user-centered and support physicians.

3.  Leveling the technology playing field to promote innovation, including for start-ups and new entrants, by unlocking electronic health information through open APIs…

4.  Prioritizing interoperability by implementing federally recognized, national interoperability standards and focusing on real-world uses of technology…
This all sounds really familiar… Didn't you say essentially the same thing back when this whole "Meaningful Use" was started, almost seven years ago?
If that's the case, then how exactly we are 'transitioning' away from the current program? 
The approach to meaningful use under MACRA won't happen overnight. Our goal in communicating our principles now is to give everyone time to plan for what's next and to continue to give us input…

We encourage you to look for the MACRA regulations this year; in the meantime, our existing regulations – including meaningful use Stage 3 – are still in effect.
So, for those of you following along at home, this is the brilliant plan to improve EHR usage: first, announce a 'new' strategy (which is basically a recycled version of the old strategy); then, have everyone adhere to the same old guidelines?
How will Meaningful Use be effectively ended and "replaced with something better," if we can see no recognizable direction from the federal government?
Congress gave us new authority to streamline the process for granting hardship exception's under meaningful use. This will allow groups of health care providers to apply for a hardship exception instead of each doctor applying individually.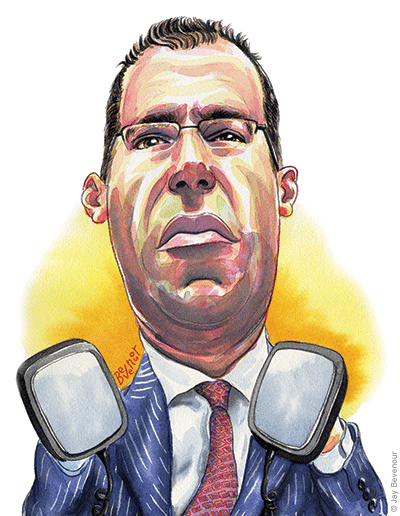 Unfortunately, this doesn't address any of the real problems. We need a concrete plan of action, not just principles and reiterations. What does it take to initiate a plan that actually works, instead of just making a patch job of what we have now?
I sense stall-tactics on the part of the CMS and the ONC. Maybe we have become complacent. Have we not put enough pressure on our leaders to take action? Whatever becomes of this 'shake-up,' surely the nonsense must end.
However, I can almost guarantee that the process will not be quick; and it certainly will not be painless.
The accompanying cartoon is property of the University of Pennsylvania, as it appeared in the Pennsylvania Gazette in February 2014.
[Slavitt, Andy, and Karen DeSalvo. "EHR Incentive Programs: Where We Go Next." The CMS Blog. 19 Jan. 2016. Web. 04 Feb. 2016.]